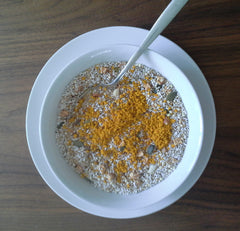 A question I am constantly is what do I eat on a typical day so I decided to do a food diary yesterday to give you all an idea of what I eat though obviously this changes day to day as I like my diet to be varied so I don't get bored.
7:30 am - Lemon Water & Supplements
Iced lemon water with home-made reverse osmosis filtered ice-cubes :)[/caption] I began my day as I always do with a glass of water and lemon juice, this re-hydrates the body and speeds up the cleansing process in the morning. In the winter I heat up the water to make a warm drink but with the lovely weather at the moment I made a nice cool iced lemon water to start the day. I use the drinking water from my reverse osmosis system to drink and also to make home-made clean ice cubes! I live by the motto "cleanse don't clog" in the morning time so I avoid the usual stodgy oatmeal's or cereals etc when I first wake up. At this time I take my morning supplements which include B12, chlorella, woman formula and digestive enzymes to name a few. ( I will do a separate blog post soon on all the supplements I take )
8:15 am - My First Green Juice Of The Day
Cucumber, celery, sprouted seeds and ginger juice I usually wait a half an hour or so before I have a green juice. My favourite green juice is cucumber, celery, sprouted seeds and ginger, sometimes I will add in a handful or kale or spinach but I was out of these this morning. I vary the sprouted seeds, my favourites are alfalfa or broccoli sprouts as they are both packed with so much goodness.  I can't function without my juice. I find it refreshing, it gives me such a boast of energy and really sets me up for the day ahead.
10:00 am - My Mid Morning Snack/ Late Breakfast
Bee pollen really gives my quinoa porridge a lovely sweet taste[/caption] For my mid morning snack/ breakfast I had quinoa muesli, unsweetened rice milk and a sprinkling of bee pollen on top. It's so filling and takes me right through to lunch without getting hungry. Around 11am I drank some unsweetened coconut water; I drink lots of coconut water as it is great for keeping you hydrated. I also took some vitamin D and a supplement form of turmeric to help protect my immune system.
12:30 pm - Lunchtime
Sprouted Salad with Good Fat Dressing - Recipe from my book RAW for my lunch I had a sprouted salad with good fat dressing, recipe is available in my latest book RAW. I also added some hummus. This salad is so nutritious but quick and easy to put together. At around 3pm I snacked on a few raw organic almonds.
5:00 pm - My Afternoon Juice
I had another green juice at 5 before dinner, I had the same juice as I made in the morning time but added some organic spinach as I had picked some up in the shop earlier.
7:00 pm - Dinnertime!

I used my spirilizer to get the pasta effect, such a handy gadget![/caption] For my dinner I eat salads a lot but a couple of times a week I switch it up. Last night I made myself some zero carb courgette pasta, using my spirilizer gadget to make the pasta, its so handy and only takes a few minutes! Then I added a tablespoon of organic vegan pesto and that was it, a delicious raw meal in five minutes !
10 pm- Wheatgrass & Bed
The only shot you will ever see me drinking lol![/caption] I have my wheatgrass everynight before bed as it assists in cleaning the blood system while you sleep. Any questions or comments don't be afraid to write them below and I will get back to you :)