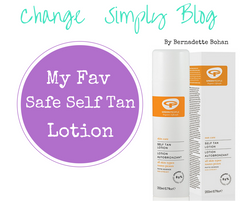 Safe personal care products are very important to me. I spend so much time making sure i live the healthiest lifestyle possible that I don't want to fall at the last hurdle by using chemicals on my skin that will then enter the blood stream. Over the years I have tried and tested so many natural self tans and their are some really good ones out there but from all my trials my absolute favourite is Green Peoples Self Tan Lotion. 
My Favourite Natural Fake Tan. Available HERE Most fake tans are full of  phthalates, parabens, propylene glycol and lots of other nasties.  A number of brands slap the usual "natural" label on the front of their bottle which can mean which can mean a small percentage of the product is natural but what about the other ingredients. . DHA (dihydroxyacetone) is the main ingredient responsible for the tan effect on the skin. Many fake tans use a man-made synthetic DHA, which should be avoided. The natural fake tans use a DHA derived from natural ingredients, such as sugar beets. The main difference is that the natural versions are made to react to the amino acids only in the dead top layers of the skin. While in chemical-based tanning products, chemicals can be added to weaken the skin's surface, which will result in the product being absorbed into the blood stream, and will result in a faster developing tan (and the nasties penetrating much deeper). What I love about this fake tan is it goes on so evenly and is not streaky like a lot of the previous natural tans I tried. I am not one to lather myself in it ( I dont want the orange look) but I do like to have a healthy glow, especially for a night out and during the summer. 
A must first step for a smooth applicant is to exfoliate and moisturise the skin, I use a body brush for this.  As much of a nuisance as this is it's a necessary step if you want to get an even tan. Then using a tanning mitt I put on one layer, let it dry and then get into some PJ's so it doesn't ruin my bedsheets and leave it to develop overnight. Next morning I wash it off gently ( usually 8 -10 hours later) and just pat myself dry. I really love the golden tan this product gives as I hate to look caked in tan. Green People tan usually lasts me 4- 5 days, so it gets me through the weekend and majority of the week. at €22.99 it may seem pricey compared to cheap tans you can get in the pharmacy but I don't mind paying a little extra if I know what I am not putting dangerous chemicals on my body. Remember your skin is the largest organ of your body and it takes only 40 minutes for chemicals that are applied to your skin to be absorbed into your blood stream so its important to pay attention to the chemicals in toiletries like fake tan and body lotions etc. I usually get 6-8 weeks out of a bottle, you don't need to use too much as its spreads  which is great !
Change Simply's top tips on making sure your tan is toxin-free: 
Read the back of the label, not just the front!
Avoid these ingredients: propylene glycol (a petrochemical), phenoxyethanol, Parabens, FD&C colouring (artificial dye), fragrance (unless it states these are natural or organic), and anything with "PEG" in the name.
Look for a "Certified Organic" logo which guarantees us against any synthetics, GMO's, toxic preservatives and other nasties.