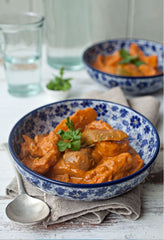 With my recent blog on the benefits of spices I thought this curry recipe would help you get more spices into your diet. It has been one of the most popular recipes in the book according to the feedback from my readers. To get that authentic curry flavour this one involved many trials and tons of patience. Real curry sauces (not from a jar) may appear complex at first, but to be honest it's just about tweaking the amount of spices. Most of the spices in this curry you will have in your spice rack. Don't forget the turmeric besides giving foods a pronounced yellow colour it is a valued condiment that has many therapeutic benefits. 'Keep sprouted lentils to hand to add to soups, salads and cooked meals, they are great to add extra nutrients and vitamins to the foods you eat.'
What you need
1 onion
1 butternut squash
1 small cauliflower
2 cups of vegetable stock
1 cup of  yellow lentils (sprouted for two days)
1 red chilli
½ teaspoon of ginger
1 teaspoon of cumin
¼ teaspoon of turmeric
1 teaspoon of curry powder
1 tablespoon of gram flour What you do
Put the onion, squash, cauliflower, chilli, ginger, cumin, turmeric and curry powder in a large pot containing, the two cups of vegetable stock.
Cook gently for 30 minutes, until the vegetables are soft.
Blend the gram flour with a small amount of hot water to thicken the sauce.
Stir in the sprouted lentils just before serving the curry.