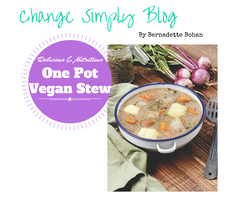 Stew may sound boring but who doesn't like a tasty stew, especially on a day like today,  where has our lovely summer sun gone?  This stew is perfect for the whole family (even the meat eaters) . Its such a comfort food dish and when I serve this to my lot they always want seconds and nearly lick their plates clean.  Try gram flour to thicken the sauce its made from ground chickpeas and is available in supermarkets and health food stores, much better than bleached flour. This hearty stew is destined to become a firm family favourite. I love the wonderful aroma of this delicious stew while it's cooking, it gives me a nostalgic whiff of my mother's kitchen.
What you need
2 onions
6–8 button mushrooms
1 leek
1 small cauliflower
3 carrots
2 tablespoon of vegetable bouillon
¾ of a litre of water
10 new potatoes
1 tablespoon of gram flour
What you do
Peel and chop the vegetables into bite size pieces.
Sauté the onions in a pot in a small amount of water for about two minutes. Stir constantly to prevent sticking.
Make a stock by blending the vegetable bouillon in the water and then add it to the onions.
Throw the veggies, potatoes, stock and herbs into the sauté onion. Bring to the boil and then reduce the heat, allowing the stew to simmer for an hour.
Blend the gram flour with a small amount of hot water and then add to the stew to thicken the gravy.
Enjoy and let me know what you think :)