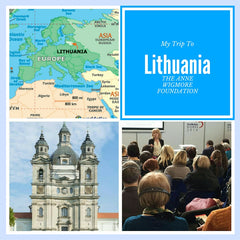 As some of you may have read I went to Lithuania over the weekend and had an amazing trip! I was contacted a few months ago by the Ann Wigmore Foundation who wanted me to attend the health conference "Sveikatos Dienos 2016" and give a talk on natural health and healing. It was a huge honour to have been asked to speak in the birthplace of Dr Ann Wigmore. Although I had read extensively about this pioneer of natural health, I learned so much more from Paulius our host who is the director of the Ann Wigmore Foundation.
For years her life has inspired me on my own path of healthy eating. Spreading the word on the benefits of healthy living was her passion. Ann Wigmore used nature as medicine when she was diagnosed with stage 4 metastatic colon cancer. She went on to teach cancer patients doctors, nurses, scientists, and many other professionals her common sense approach to better health. Her selfless giving to those in need many of who were literally faced with life or death touched me and also there were no half measures with her. If you were sick and wanted to recover you gave it your all. [caption id="attachment_463" align="aligncenter" width="500"]
I was so happy with the attendence and response from the talk I gave[/caption] Although I was so excited and humbled to have been asked I must admit I was a bit anxious working with an interpreter but that turned out to be much easier than I thought. With the help of a Lithuanian friend I managed to say a few sentences at the opening of my lecture at the conference I am happy to say I got a warm welcome from the 220 attendees. I'm delighted to say I received some great feedback on the talk and had three television interviews over the weekend as a result. [caption id="attachment_465" align="aligncenter" width="400"]
One of the television interviews I had[/caption] Lithuania has moved on since Dr Wigmores time and now her foundation spearheads the largest conference in Europe on lifestyle medicine. They are working with governments across Europe to educate the populations on how to be healthy, live longer and reverse some of our lifestyle-related common killer diseases. It was heart-warming to see so many involved in changing the course of the Western lifestyle and move towards a more natural diet. This is something that is so close to my heart as it will affect the progression of our modern killer diseases, such as heart disease, diabetes, stroke and cancer. [caption id="attachment_464" align="aligncenter" width="400"]
Trying out a back straightening device lol[/caption] These people have recognized that the scientific evidence can no longer be ignored, We know that food plays an essential role in the promotion of health and disease. The Lithuanian people are an inspiring example of how our lifestyle choices can change our health .Maybe we should take a leaf out of their book if we want to see our children and grandchildren live long and healthy lives. [caption id="attachment_466" align="aligncenter" width="445"]
The stunning Pažaislis Monastery[/caption] Mind you the weekend was not all about health we managed to survive the freezing temperatures and see the paintings of Mikalojus Čiurlionis a talented turn-of-the-century painter and composer.  We ate some traditional Lithuanian potato cakes, my hubby loved them. We had lunch in the Pažaislis Monastery and I even managed to squeeze in a little shopping so all in all an interesting and exciting weekend.