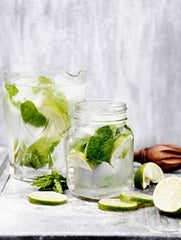 Sweet & Refreshing Mojitos  
Grab a straw and raise a glass!
A 'mocktail' is a nice treat in the warm weather or for party guests who prefer not to drink alcohol, or who are driving. Although this drink has no alcohol, as would a traditional Mojito, be assured you will find it just as refreshing. You can whisk up this 'mocktail' of mint, stevia, zesty lime and cooling sparkling water in minutes. I played with the quantities to perfect this virgin mojito, so if you want to raise a glass but don't want the alcohol, or are abstaining for health reasons, you won't feel left out with this fabulous drink.
What you need
1 cup lime juice
2 cups sparkling water
1 handful mint leaves
10 drops stevia
2 handfuls crushed ice
What you do
Blend the lime juice, stevia and sparkling water together. Crush the mint leaves.
Pour the mix over crushed ice in 2 cocktail glasses. Stir everything together and serve.